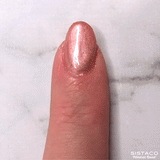 Remover & 3-In-1 Nail Tool Pack
It's time for a fresh mani and we have the perfect bundle for you! Now you can get our specially-formulated Express Remover and 3-In-1 Nail...
Read More
It's time for a fresh mani and we have the perfect bundle for you! Now you can get our specially-formulated Express Remover and 3-In-1 Nail Tool in a bundle! 

3-In-1 Nail Art & Remover Tool
The triangle end is perfect for gently removing your current colour, features a non-slip textured handle and comes in a stunning rose gold finish. 
Express Remover
Our specially-formulated Express Remover will remove your nail powders quickly, safely and easily! 

When used in tandem, removal is a breeze and you'll be ready for your new set in minutes!
Read Less
or 4 interest-free payments of $4.48

Alcohol, Aqua, Hydroxyethyl Cellulose, Ethyl Acetate, Tocopheryl acetate, Acetone, Isopropyl myristate, C.I. Acid Red 33, Pigment White 6

4 Reasons Why People Love Sistaco
Quick and Easy to Use
Our system is so simple and produces a perfect salon-quality finish every time - This is the system for all ages and experience levels. No dipping or drilling; just simply brush it on and remove easily whenever you want!
Long-lasting
Your application will last you up to 2 weeks, often longer, protecting your nails and keeping them strong. As we're the only nail system where you can mix your own colours, you'll be getting creative and wanting to change sooner!
Non-Toxic
All of our products are non-toxic! They are also odour free so say goodbye to salon headaches or smelly dip kits. Sistaco is unique which is why we have hundreds of thousands of customers worldwide.
Money Saving
Let's face it, it's tough finding the time and the money to go to a salon continually. Our system will save you thousands over the year, you can do over 30 full manicures with a single pot. That's one every 2 weeks for a YEAR! And with so many shades in our range, you will never be bored.
HOW DOES SISTACO NAIL SET WORK
Flamingo love!
Flamingo love this colour so feminine and lasted me about 3 weeks of wear. Have just ordered more pale colours after rocking the ritz holographic and the valentine, l prefer lighter colours on myself but good to change occassianaly. I just love Sistaco and learning different ways to apply. Thankyou Sistaco for saving me professional salon visit expense. Love, love, love. My nails are getting longer and stronger every month. 💅💪😊
love my sistaco set!
I have a new addiction 🤣It's so easy to do that I keep changing colours and will be definitely buying more 🙂
Love these products
I love what Oi have received so far. I am very new to this so not great at applying yet. Only gave 4 stars but it may be my fault & not the product. Only time will tell. Awaiting the magnifier now which hopefully will improve my results. Looking at what others are achieving can't wait to become more proficient in my application. Will definitely be buying more colours.